Quarterly Economic Update
Maryland's Economic Growth Accelerates
Anirban Basu, Sage Policy Group
July, 2016
Year-over-Year Job Growth in Maryland has been Terrific
State-level job growth data recently arrived for June. They indicate that over the past twelve months, Maryland has added 58,600 jobs. That translates into 2.2 percent employment growth, better than Virginia's 1.9 percent, and better than the nation's 1.7 percent.
The state's unemployment rate declined from 4.5 percent in May to 4.3 percent. Only a handful of other states, including Georgia and South Carolina, experienced such a large dip in unemployment.
Though the pace of job growth continues to be rapid, helping to push unemployment lower and set the stage for faster wage expansion, many of the net new jobs are in lower paying segments. For instance, more than a quarter of all the jobs that have been added in Maryland over the past year are in leisure and hospitality (17.1k). Professional services, health services, logistics, and construction have also been significant creators of jobs in Maryland.
Given dynamics in and around the Port of Baltimore, it is quite likely that logistics/distribution will continue to be a significant source of net new jobs going forward. America's consumer-led recovery remains firmly in place, for now, implying additional jobs in service and leisure categories.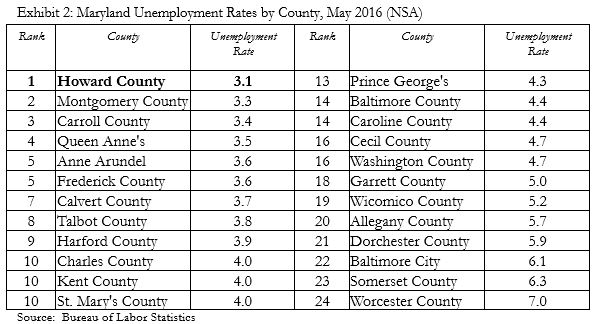 Howard County's Innovation Economy Continues to Propel Maryland Forward
Recent commercial real estate data indicate that office space absorption remains strong. That comes as little surprise. Emerging edge cities like Towson and Columbia increasingly offer employers what they want – vibrant, safe, interesting, and increasingly dense environments that stimulate creativity and support successful talent recruitment. The passage of time has brought significant change in Howard County's built environment, whether in the form of a redeveloping downtown Columbia or the New Urbanist stylings of Maple Lawn.
This shifting built environment is both a reflection of Howard County's economic growth and economic diversification and a cause of additional vitality and entrepreneurship. With the redevelopment of downtown Columbia still in its infancy, there is reason to believe that Howard County will increasingly be positioned to help lead Central Maryland in cyber, the life sciences, government contracting and other key segments.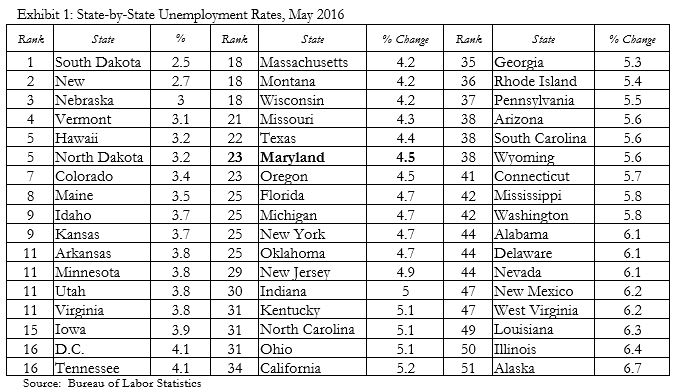 The county continues to sustain the lowest unemployment rate in Maryland. Many Howard County employers continue to expand, but it is increasingly likely that new workers will be residents from other counties. This implies that unemployment rates in Baltimore County and elsewhere will continue to decline. Indeed, significant declines in unemployment have been observed in virtually all of the counties that surround Howard County recently with the possible exception of Montgomery County, where unemployment has been extremely low for quite some time.
Home sales in Howard County were 11.9 percent higher in June 2016 than they were a year earlier according to data supplied by the Maryland Association of Realtors. Average and median sales prices have not risen over the past year, however, largely due to the composition of sales. At long last, more young buyers are participating in the market, and their purchase prices tend to be lower than the prevailing average or median market prices.
Sage Policy Group
July, 2016
Lowe Wealth Advisors is an independent fee based Financial Planning and Investment Advisory firm headquartered in Columbia, MD. For more information about our firm please visit www.LoweWealth.com . Lowe Wealth Advisors is a registered investment advisor.
Note: The views of Anirban Basu and Sage Policy Group are informational in nature and may not reflect the views and opinions of Lowe Wealth Advisors.
Lowe Wealth Advisors is an SEC registered investment adviser that maintains a principal place of business in the State of Maryland. The Firm may only transact business in those states in which it is notice filed or qualifies for a corresponding exemption from such requirements. For information about the registration status and business operations of Lowe Wealth Advisors, please consult the Firm's Form ADV disclosure documents, the most recent versions of which are available on the SEC's Investment Adviser Public Disclosure website at www.adviserinfo.sec.gov.
This commentary is intended for the dissemination of general information regarding market conditions to Lowe Wealth Advisors clients. The information contained herein should not be construed as personalized investment advice. Past performance is no guarantee of future results, and there is no guarantee that the views and opinions expressed in this report will come to pass. While any general market information and statistical data contained herein are based on sources believed to be reliable, we do not represent that it is accurate and should not be relied on as such or be the basis for an investment decision. Any opinions expressed are current only as of the time made and are subject to change without notice.