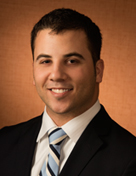 Meet Joshua Sacks, CFP®
"I am a fundamentally analytical thinker who is constantly focused on the details. This way of thinking is very helpful while spending several hours evaluating a problem and I thoroughly enjoy this part of the process. However, I am just as excited (perhaps even more so) to take these very cold data points and develop a personalized plan filled with relatable language, clear action items, and a long-term vision. As much as I enjoy the numbers and problem-solving, the real passion I have is helping to empower our clients to make educated decisions that can lead to peace of mind"
As the Director of Financial Planning at Lowe Wealth Advisors, Joshua develops each financial plan in the practice from the ground up. Joshua strives to answer our clients' most pressing questions with a detail-oriented data-driven approach. While the evaluation process is built on statistics and analytics, Joshua makes sure our clients have results communicated to them that they can actually understand. After the initial development of the financial plan, Joshua continually monitors and systematically updates each plan. He will make sure our clients receive tremendously sound advice in whatever timeframe is required to help our clients make their most important financial decisions with the utmost confidence.
Education:
B.S., Finance, Grove City College
Professional Info:
Certified Financial Planner®
Did you know? Josh is a…
Avid Golfer and sports fan.
Young Investor who purchased his first stock at age 12.
Husband and Proud Father.