Yet again the Fed has found reasons to not move rates from the current zero-bound 0 – 0.25% target range.  While the market was increasing leaning to this expectation going into the afternoon announcement, a few new details were revealed in the announcement and following press conference.
Sources of caution center primarily on the recent global volatility and the implications of the strong dollar.  Growth and rate increase expectations were pushed out as there are also a few more points of the domestic economy that support restraint, although the overall view remains constructive.
The consumer centric factors of the economy generally remain solid – employment, housing and auto sales and the backdrop is aided by low inflation.  The chart below reflects much of this through the consumer confidence survey which has stayed on an upward path.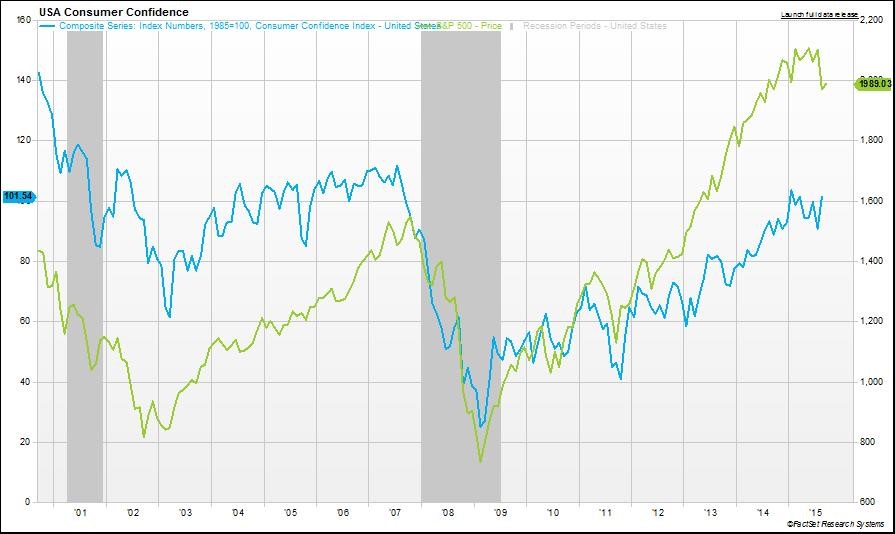 Falling commodity prices, the strong dollar and international turmoil has had an impact on the business side of the economy, however.  The chart below reflects ISM (Institute for Supply Management) surveys for manufacturing and services, with the manufacturing sector in particular reflecting a more challenging outlook through this year.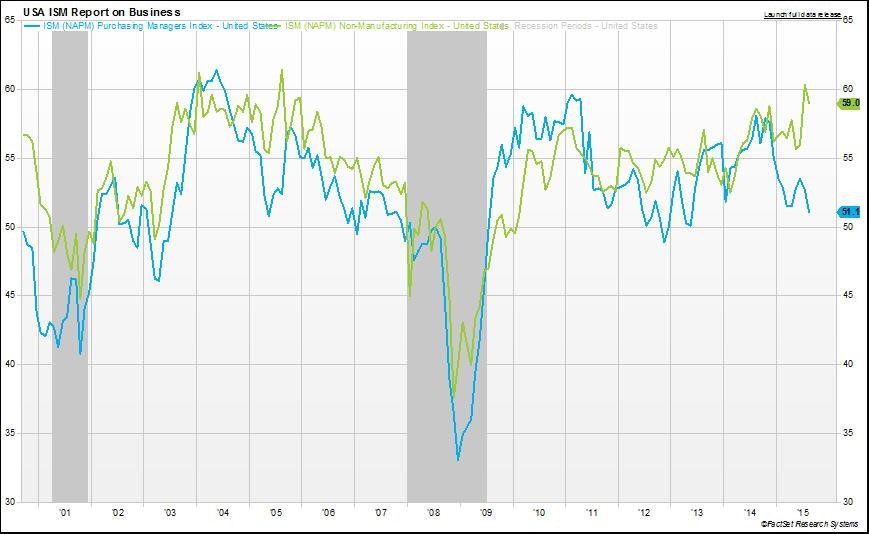 One reflection of the overall moderated view was in the now popular "dot plot" which anonymously depicts each member's forecast for rates in the future.  For the first time, that scatter diagram had one member seeing negative interest rates in 2015 and 2016.
It has been more than nine years since the last rate hike – June 2006 – and it seems unlikely this streak is to be broken anytime soon.
Lowe Wealth Advisors is an SEC registered investment adviser that maintains a principal place of business in the State of Maryland. The Firm may only transact business in those states in which it is notice filed or qualifies for a corresponding exemption from such requirements. For information about the registration status and business operations of Lowe Wealth Advisors, please consult the Firm's Form ADV disclosure documents, the most recent versions of which are available on the SEC's Investment Adviser Public Disclosure website at www.adviserinfo.sec.gov. 
This commentary is intended for the dissemination of general information regarding market conditions to Lowe Wealth Advisors clients. The information contained herein should not be construed as personalized investment advice. Past performance is no guarantee of future results, and there is no guarantee that the views and opinions expressed in this report will come to pass. While any general market information and statistical data contained herein are based on sources believed to be reliable, we do not represent that it is accurate and should not be relied on as such or be the basis for an investment decision. Any opinions expressed are current only as of the time made and are subject to change without notice.